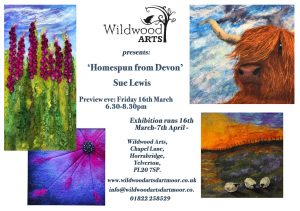 This exhibition celebrates a method of 'painting with wool' used by local artist Sue Lewis who lives and works on Dartmoor. Using locally sourced and rare breed fleece, Sue collects the fleece straight from the sheep, washing it, hand-dying it and transforming it into beautiful artwork depicting Dartmoor scenes.
She uses an array of locally sourced wools such as: Blue-Faced Leicester, Perendale, North Ronaldsay, Shetland, Alpaca, Teeswater, Romney, Mulberry silk and Merino. She then freestyle machine stitches, hand-embellishes and needle felts to create stunning art. Recently, she acquired her own first sheep from a local farmer and is now building up her own flock to source their wool!
She takes inspiration from nature and the beautiful scenery of rural Devon, especially the rugged landscapes of the Dartmoor National Park.
The private view when Sue Lewis will be in attendance to talk to visitors will be on Friday 16th of March 6.30pm-8.30pm. The exhibition will run until April 7th. Tuesday-Saturdays 10am-4pm