About
We are a friendly, independent art gallery, representing the finest artists who work on Dartmoor and across the Southwest. We represent over fifty artists from Bristol to the Scilly Isles. We pride ourselves on our good, old- fashioned customer service, friendly approach and expertise. We are located in an unassuming Dartmoor village, nestled between the hills and tors of Dartmoor. There are lovely walks either side of the village and two great country pubs within walking distance of the gallery.
To find out more about our location click here
For directions click here
The gallery was established in 2016 by Cheri Hunston, herself an artist. Cheri often paints in the gallery.
Cheri's vision for the gallery was to not only represent the best artists and artwork in the Southwest, but also to create an artistic community on Dartmoor whilst also protecting the artists' interests. Being an artist herself, Cheri has many years experience of the artworld, not only as an artist, but as both an agent and dealer.  As an artist she is uniquely placed to explain the inspirations, methodology, processes and techniques and demystify artworks. Cheri also can offer advice on buying art as an investment and selling art on the secondary market.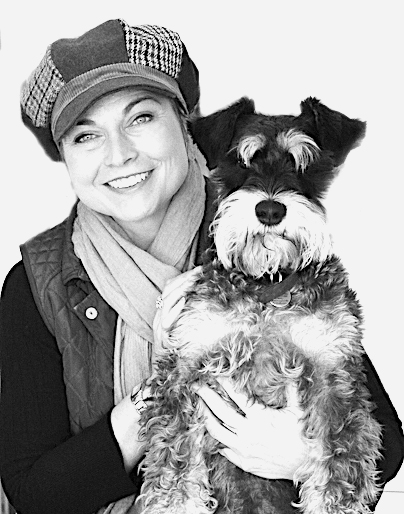 Owner Cheri with Claude,
the gallery dog.
Ethos
First and foremost the gallery is about being a welcoming and inviting environment for both customers and artists. Developing and maintaining  trusting relationships with all our clients and artists is fundamental. We look after the interests of our artists and our clients.
Being an independent gallery means that we represent the artists directly. We act as an agent for them. We do not sell mass produced published art like many mainstream galleries; consequently our artists always take a larger percentage and you really are supporting local artists. Big galleries often buy from art publishers and the artist gets only a very small percentage. Not only that, you won't find any of our work in every city in the UK, in fact you probably won't find it anywhere else. We look for quality, originality and uniqueness.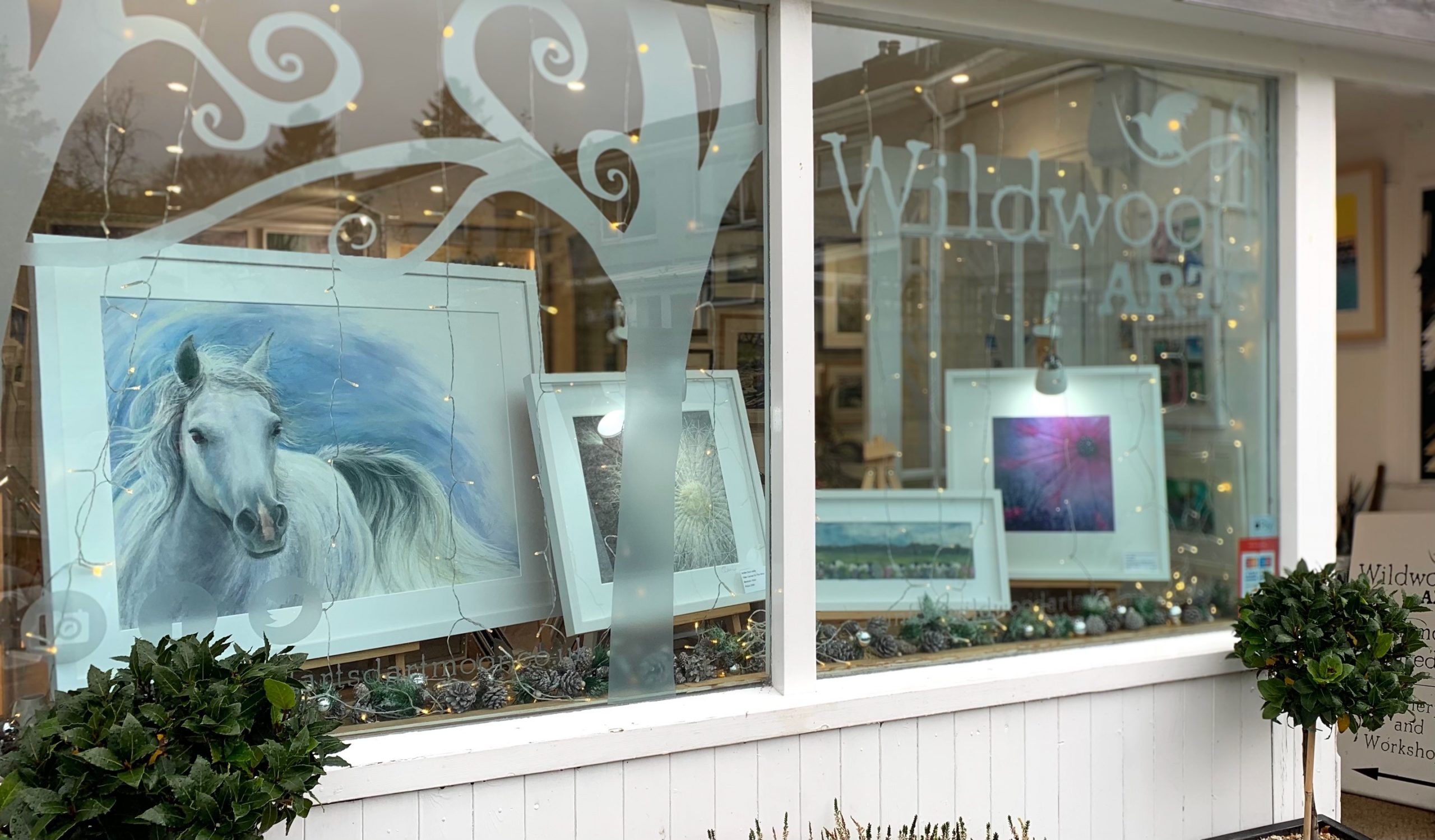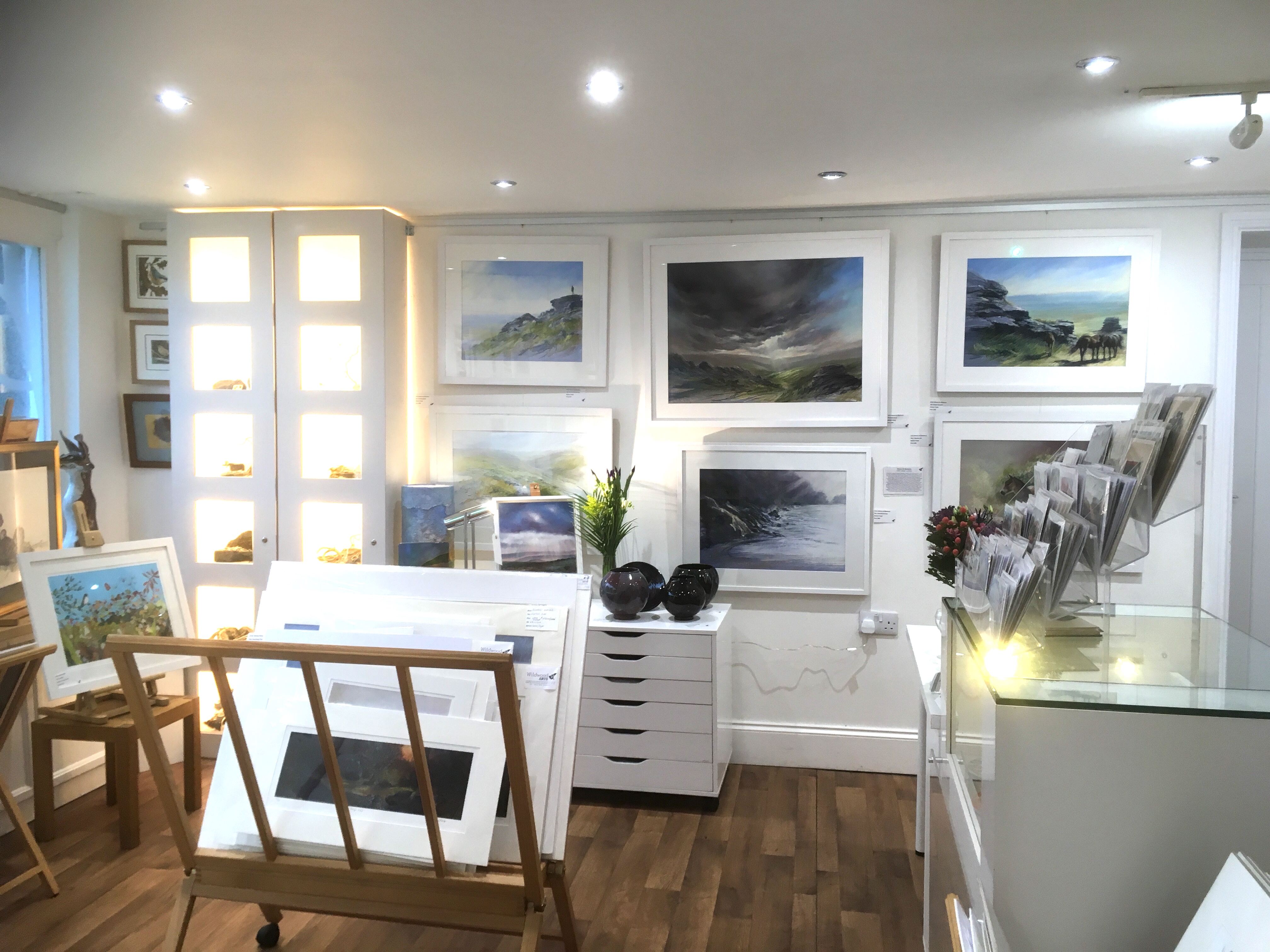 What we Offer
Our gallery space might be small but we have an extensive range of quality artwork. We stock a range of styles and subjects from traditional, to post-war investment art, to  modern and contemporary fine art in a variety of mediums: oil, acrylic, watercolour, ink and mixed media. We also have textile art, glass, hand-made designer jewellery, felting and ceramics. Our main focus is Dartmoor, the Southwest and British wildlife.
We represent young, emerging artists to established and internationally recognised artists.  We also ship internationally.  So, whether it is finding something new and exciting for a specific place, or an investment piece, we have it all!  So do come and say hello!
Dogs, muddy boots and cyclists are welcome. Parking is directly in front of the gallery.
Appointments
If you have seen something on the website and wish to view it in person then please just get in touch and we can have it ready for you to see.
If you want expert advice on art investments or guidance on suitable art for your home then we are here to help.
It's always best to make an appointment with owner, Cheri, so that she can  discuss your needs and have suitable work to show you on your arrival.
You could also give us a call on 01822 258539 if you prefer.
Cheri is generally in the gallery Wednesdays, Fridays and Saturdays.
Own Art
We are part of  OWN ART. Own Art is a national initiative, supported by Arts Council England, to make it easy and affordable for anyone and everyone to buy contemporary art and craft.
How does it work?
Own Art loans allow you to borrow from as little as £100 up to £2,500 and pay it back over 10months, completely interest-free. You can choose to finance all or just part of your purchase and multiple items can be bought with one loan. The best part is that you can take your masterpiece home with you straight away.
Applying for an Own Art loan is easy!