Featured Artist
REBECCA DE MENDONCA
Every month we have a new featured artist.  Artists will have created new works especially for the gallery and will have a solo exhibition in part of the gallery. Moreover, at the beginning of the month on the first Saturday of that month, the artist will be in the gallery working on their latest piece, demonstrating their techniques and answering your questions. It's a fantastic way to meet your favourite artists and ask them about their inspirations, influences and techniques.
There will be light refreshments available free of charge.
This event is free. No RSVP required. just pop along.
Saturday 5th March 2022.11am-4pm
 Introducing: Rebecca De Mendonca
at Wildwood Art Gallery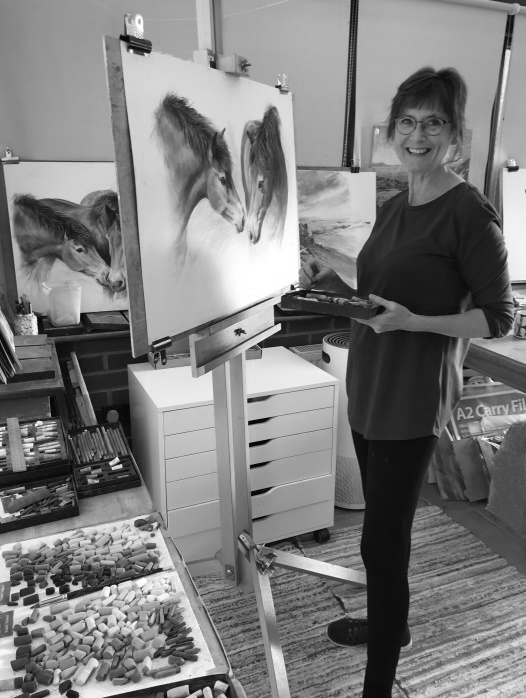 Introducing… Rebecca De Mendonca
Rebecca has been integral part of Wildwood for a number of years and we are very proud to exhibit her work. Her art is consistently beautiful and her mastery of her subject and medium shines through on every artwork she creates. We are delighted Rebecca has agreed to come in and meet our customers and we hope you will take up this unique opportunity and visit on Saturday 5th March 11am-4pm. If you cannot make Saturday, her solo exhibition runs throughout March.
Rebecca was born into a creative family. Her mother was an artist and teacher, her father an architect, her brother a painter.  After a Foundation Course at Wolverhampton University in Art and Design she gained a BA Hons at Wimbledon School of Art in theatre design. She has been lucky enough to work with some highly creative people, on some fascinating projects.These include sculpting  the famous ceiling in Harrods Food Hall and producing work for Warwick Castle museum and Madame Tussauds.
Rebecca was design assistant to Kevin McCloud, and worked with top theatre designers including Terry Parsons and Maria Bjornson. She has worked on West End shows including 'Aspects of Love' and 'Phantom of the Opera', specialising in paint finishes.  Rebecca has done Post-production work for the BBC and has illustrated 10 travel guides for Bradt Publications.
Theatre commissions and paintings of actors in West End shows include Gavin Lee as Bert in 'Mary Poppins' at the Prince Edward Theatre, and the cast of 'Peter Pan' at the Savoy Theatre. Dance commissions include English National Ballet.
Now living in Devon, Rebecca's subjects include horses and landscapes, as well as people and architectural scenes. She has become well known for her Equestrian Art, and is an Associate member and a trustee of the Society of Equestrian Artists. She has exhibited with the Pastel Society and in 2019 was shortlisted for the Artists and Illustrators 'Artists of the Year' for the third year running, exhibiting at the Mall galleries in London. Her paintings are in collections all over the World.
Rebecca is passionate about her medium of soft pastels, and in 2013 co-founded The New Pastel School with her good friend and pastel artist Nel Whatmore, teaching courses in the UK and Italy. Her writing includes articles for Leisure Painter Magazine, and Paint & Draw Magazine, and she has online courses on her website. In 2020 she began regular live zoom pastel tutorials, as a way to get more people enjoying art during the pandemic.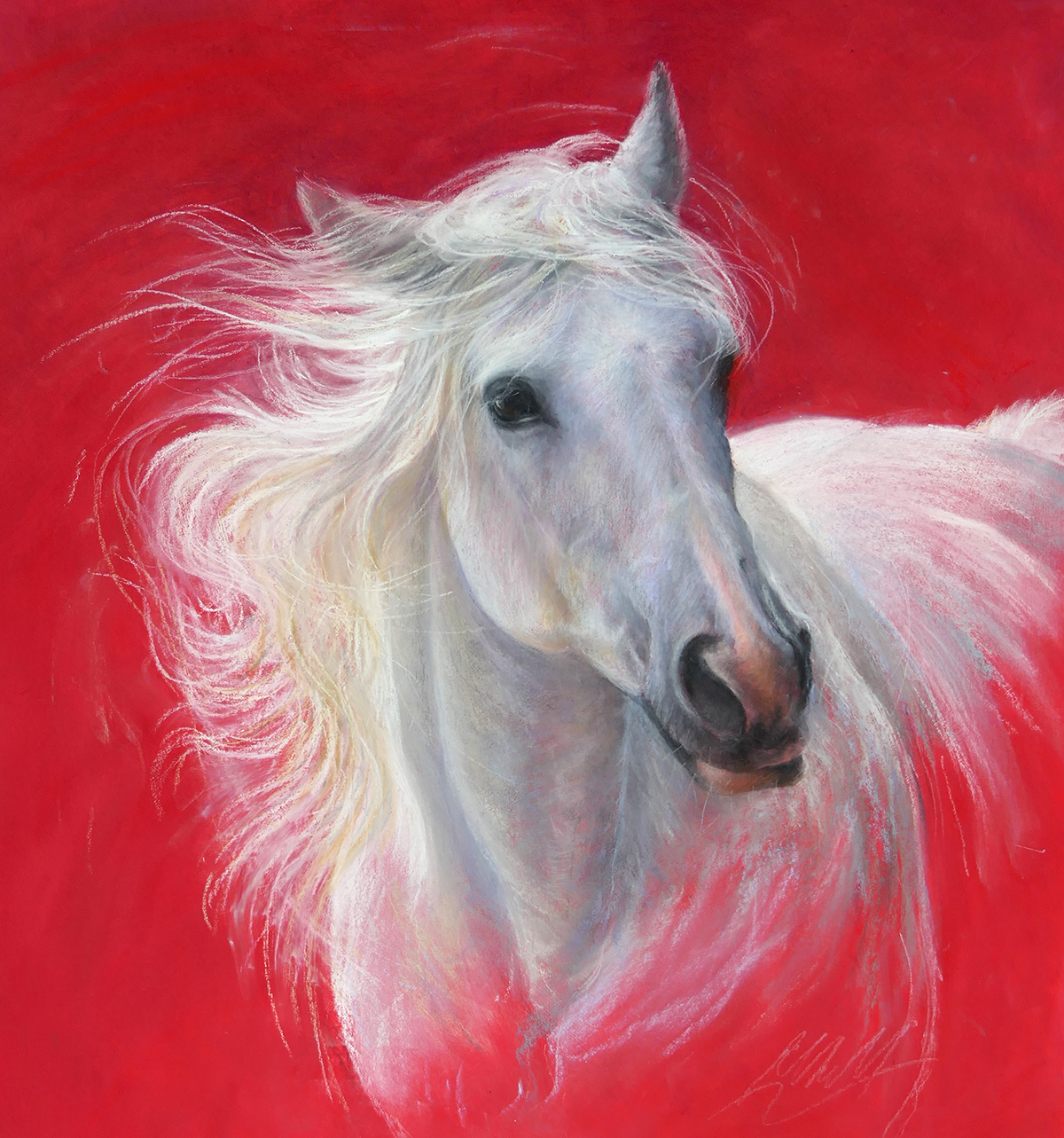 'A Shake of the Head', original by Rebecca De Mendonca. Pastel on primer.W74xH79cm White wood frame/artglass.  £1400 or £140 per month with OWN ART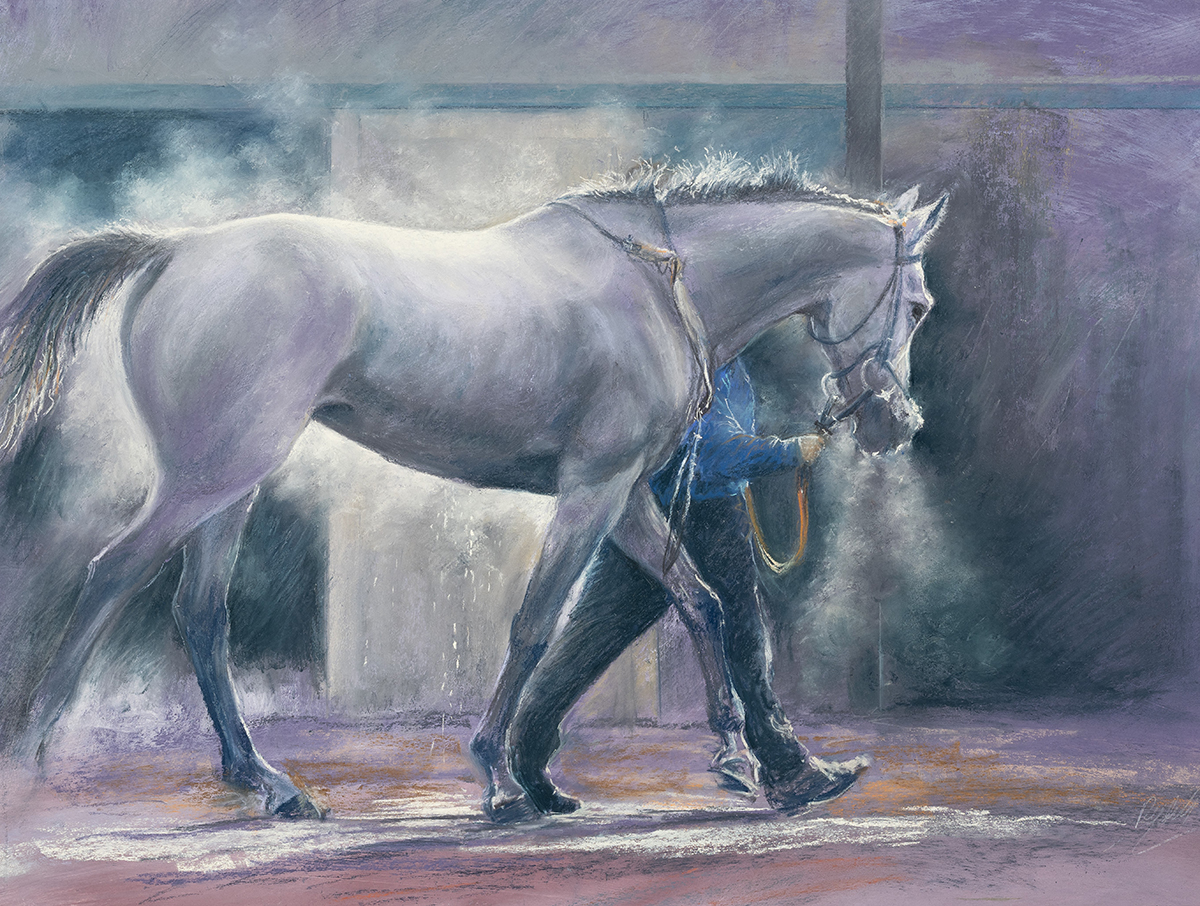 'Steaming', original by Rebecca De Mendonca. Pastel on primer.82x63cm.White wood frame.artglass £1400. £140 per month with OWN ART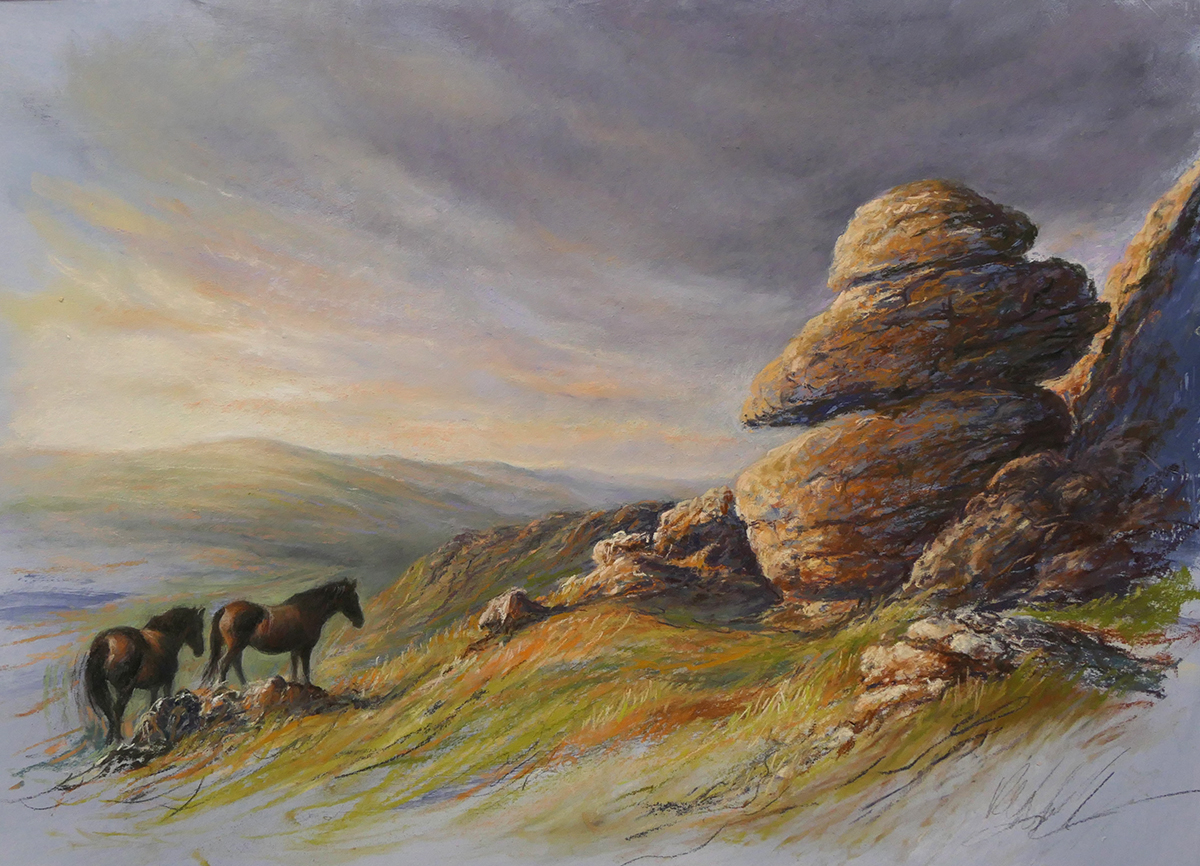 'Ponies on the Tor', original by Rebecca De Mendonca. Pastel on primer.73x58cm. White wood frame/artglass.  £795. £79.50 per month with OWN ART
Rebecca's book, 'Pastels for the Absolute Beginner' published by Search Press, is available now, and she is currently writing her second book.
She has been attracted to atmosphere and beautiful light, from the drama of Dartmoor, to the winter sunlight at Exeter Races, where the horses kick up the dust, and the steam rises.
She particularly likes to explore the connection between horses and the people who work with them, and is just as inspired by the trainers and grooms leading the race horses, as the thrill and colour of the race itself. Excitement, anticipation and beautiful thoroughbreds is a powerful combination for an artist. She is also fascinated by the strength and hardiness of Exmoor and Dartmoor ponies, and the way that they are part of our landscape.
During March Rebecca is off to Camargue where she is hoping that her trip  will bring some of these strands together, and it also gives her a chance to study another ancient breed of horse in their natural habitat.
Rebecca  will be keeping a blog diary throughout her trip, and sharing it on the WIldwood Arts website. She is hopeful that in her blog she can describe the challenges this trip will bring, but also share the inspiration, sketches, and photographs of her adventure. below phot: Horses in the Camargue. Photo by Photographers on Safari