2nd February – 23rd February
Metaphorical and Allegorical exhibition: Richard Slater/David Brooke
Richard Slater
Richard Slater was born in London in 1927. He attended the Hornsey School of Art, which led to a long and distinguished artistic career first as a teacher of art. He moved to East Cornwall in 1973 and continued to develop and evolve as a painter in his own right. Recognition of his prodigious talent was acknowledged by his election to the Royal Institute of Painters in Watercolour in 1999.He is also a full member of the St Ives Society of Artists. Throughout this period he continually exhibited his work both in the West Country and London. 
Throughout his career he has developed a well crafted, poetic and often allegorical style which places him at the centre of the British Neo–romantic movement. He portrays landscapes as abstracts with a narrative through the medium of vibrant colours. Working with equal dexterity across the mediums of pastel, oil and watercolour, Richard Slater creates complex images of rural scenes, villages, buildings, wildlife and flora.
Richard Slater's paintings are in the permanent art collection of the Royal Albert Memorial Museum in Exeter. Furthermore, his work is in the art collection of the BBC. In summary his paintings represent the art of a master of his craft. They are both an enduring joy and an investment for the future. 
D.Brooke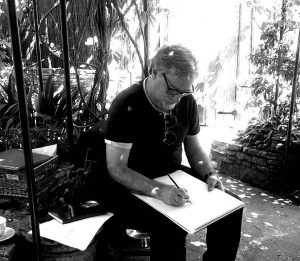 David Brooke attended Yeovil School of Art (1972-75) and Hull College of Art (1975-78), where he obtained a BA (Hons) in Graphic Design. David is a Past President (2000-06) and past Hon. Treasurer (1995-2000) of the Society of Graphic Fine Art. He is also a member and regularly exhibits with the South West Academy of Fine and Applied Arts, the National Acrylic Painters' Association, the Society for Art of Imagination and the Bath Society of Artists. For three years (2002-04) David was the Arts and Administration Manager of the Yeovil Arts Centre, and for four years (2005-08) he was employed by the Octagon Theatre, Yeovil, as their Visual Arts Co-ordinator.
Themes for David's paintings often originate from mythology, although interpreted and embellished by his imagination, sometimes the pictures create the feeling of myth or folk-tale although not based on any actual story. There is often something of a humorous or quirky nature about his work. His earlier works are oil paintings on either board or canvas; in 1994 he changed to acrylic paint first on canvas and more recently on paper. During his career David has produced numerous pen and ink drawings and occasionally he works with oil pastels, and more recently has been producing a number of coloured pencil drawings.
His paintings have been shown at numerous open exhibitions including Royal Institute of Oil painters, London, United Society of Artists, London, and the Royal West of England Academy, Bristol. With the Society of Art of the Imagination he has exhibited in New York and Miami. David has had 16 One Man Shows and 8 Two or Three Man Shows.