Faith Chevannes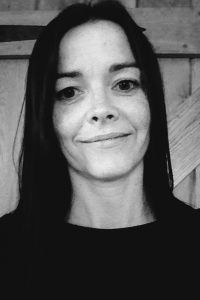 Faith captures fleeting moments and precious glimpses of our fragile natural world. She has developed her own particular brand of imagery which illustrates her emotional response. Drawing is central to the way that she works. She makes small editions of exquisite drypoint etchings which showcase the beauty of the mediums' irresistible rich velvety burr lines. She also makes mixed media pieces where she uses complex layers of drypoint etching, acrylic, paper, pastel and charcoal to create sublime images of creatures and landscapes.
Faith is constantly inspired by her environment, her memory of it and her sense of place. She is fascinated with nature and the ever-changing seasons. She works from her studio in North Cornwall which is near the wild Atlantic Coast, the Tamar Valley AONB and the remote romantic moors of Bodmin and Dartmoor.
Faith trained in the 1990's at Falmouth School of Art and DeMontfort University, Leicester achieving a BA (Hons) in Visual Arts and a PCGE in Art and Design Education. She has collectors worldwide and her work is recognised Nationally, and has been included in the Royal Academy (RA) Summer Exhibition. She is a Royal West Academy (RWA) Artist Network Member and recently won Sky Arts Portrait Artist of the Week (Oct 2020).
Showing all 9 results