Wildwood Arts. Dartmoor's Art Gallery.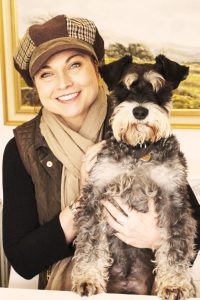 The Gallery
Welcome to Wildwood Art Gallery. We are located in the beautiful Walkham Valley on Dartmoor in a pretty, historical village called Horrabridge near Tavistock. We are a friendly, independent art gallery, representing the finest artists who work on Dartmoor and across the Southwest.  We are a showcase for their high-quality art inspired by Dartmoor, the Southwest and its wonderful variety of nature and wildlife.  Original oil, acrylic, watercolour, ink paintings, textile art, glass, hand-made designer jewellery, felting and ceramics are among the plethora of original unique art works to be discovered here. We represent young, emerging artists to established and internationally recognised artists.  So, whether it is finding something new and exciting, or an investment piece, we have it all!  So come and say hello!
Being an independent gallery means that we represent the artists directly. We act as an agent for them.  We know all our artists well and they are often popping into the gallery.  Being independent means that unlike many mainstream galleries, our artists always take a larger percentage and you really are supporting local artists. Big galleries often buy from art publishers and the artist gets only a very small percentage. Not only that, you won't find any of our work in every city in the UK, in fact you probably won't find it anywhere else.
Owner Cheri, is an artist herself and you can often find her creating or teaching in the gallery, watched by her dog Claude. Weekly art classes run on Wednesday mornings,  but you're  still welcome to call in, meet the students and see what they are working on.  International felt artist, Hilary Woodgate is also a resident artist here and she runs felting workshops from the gallery on some Thursdays and Sundays.
Cheri can be available to advise on art purchases. It is always advisable to make an appointment if you specifically wish to see a particular artist's work or speak with Cheri. this is so that we can get all the relevant artwork out for you to view.
Viewing Appointments.
Please call ahead to book an appointment if you wish to visit or view a specific piece of art work, or body of work by an artist and we will be delighted to welcome you. Just give us a call on 01822 258529 or email us on : info@wildwoodartsdartmoor.co.uk
Our Location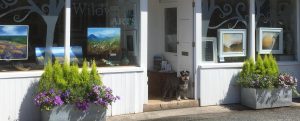 Horrabridge is picturesque ancient village on the western edge of Dartmoor National Park. It is situated in the Walkham Valley on the banks of the River Walkham: a fishing river famous for its salmon. The village's name may have been taken from the 15th century pack-horse bridge which is the only vehicular route from one side of the village to the other, and featured in the children's television programme Bagpuss. There are moorland walks from all sides of this lovely village. There are two old pubs in the village: ' The Leaping Salmon'  and 'The London Inn,'  both of which serve lovely food. The gallery, workshop and studio is situated in an old stone building in the centre of the village just meters from the River Walkham.
To get directions, click here
Read more about Horrabridge
The surrounding area.
The stunning scenery of the tors ,valleys, rivers and woodland abound on Dartmoor and it is an area of outstanding natural beauty. There are numerous walks, places to explore, great places to eat and a plethora of ancient historical sites to discover but here are some of the nearest 'must see' places full of inspiration for budding artists and their families.
Only 3.5 miles away is Tavistock, a World Heritage Site and an ancient stannary and market town. It is the largest town in West Devon. It is situated on the River Tavy from which its name derives. Tavistock Abbey, whose ruins lie in the centre of the town, was founded in AD 961 Tavistock's most famous son is Sir Francis Drake. Situated at the very heart of the historic town is the ancient Pannier Market. The Market was granted its Royal Charter in 1105 and has survived without a break for over 900 years.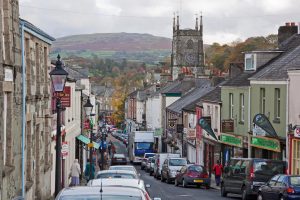 Tavistock has a yearly programme of history, musical and artistic events . With its architecture of local stone, wide range of interesting shops, market, riverside park, leisure centre and theatre, it is excellent for visitors. It is also a great base for exploring the surrounding beautiful countryside, the wild Dartmoor scenery, the many nearby pretty villages of Devon and Eastern Cornwall, and a variety of National Trust properties.
Events range from
Tavistock carnival in July
Arts and Crafts Fair in August
Heritage Festival September
Drawn to the Valley Open art studio event
Goose Fair in October
Dickensian evening in November
Pew tor
1.4 miles away is Pew tor 'Pew Tor (SX 532734) looks great in photographs and you can also just sit on top of it and enjoy the views over Tavistock and towards Brentor church. Though you may not want to linger too long as there is a Dartmoor legend about Pew Tor being the home of the piskie king and piskies can be mightly mischievous!'
Read more about Pew Tor
Burrator reservoir
2.2 miles away is Burrator reservoir.' The tranquil water and surrounding mixed woodland contrasts sharply with the open moor and the rugged Dartmoor tors. A trip here can be combined with a walk across the moors, or enjoyed as a trip of its own with plenty to do- from walking and taking in the views, to bank fishing for rainbow and brown trout from the banks (just be sure to get a permit from the garage in Yelverton). Devon has relatively few lakes, but the situation and quality of these make them a hidden gem in Devon's crown.'
Read more about Burrator reservoir
Buckland Abbey
2.2 miles away is Buckland Abbey. 'When you visit Buckland, you follow over 700 years of footsteps; from the Cistercians who built the Abbey and farmed the estate, to seafarers Grenville and Drake who changed the shape of the house and the fate of the country.
The Abbey is part museum, part house, and filled with treasures such as the legendary Drake's Drum. There's no mistaking the magnificence of the Great Barn, which has remained virtually unchanged since it was built all those centuries ago.
You'll discover meadows, orchards and woodlands where you can enjoy far-reaching views of the Tavy Valley. Our way-marked trails are a riot of colour through the seasons, with an unmissable carpet of bluebells in spring.'
Read more about Buckland Abbey
Merrivale
5.7 miles is Merrivale. 'Dartmoor is rich in prehistoric remains, and the group of monuments at Merrivale is one of the finest on the moor. Side by side here are the remains of a Bronze Age settlement and a complex of ritual sites, including three stone rows, a stone circle, standing stones and a number of cairns – earth mounds associated with burials. The monuments were probably built over a long period, between about 2500 BC and 1000 BC.'
Read more about Merrivale
Keep up to date
If you would like to  keep up to date with very latest from Wildwood Art please complete the form below to sign up to your newsletter.