Richard Slater. RI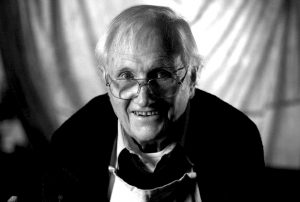 (Royal Institute of  Painters in Watercolour. Retired Honorary Member)
Richard Slater was born in London in 1927. He attended the Hornsey School of Art, which led to a long and distinguished artistic career. He moved to East Cornwall in 1973 and continued to develop and evolve as a painter in his own right.
Recognition of his prodigious talent was acknowledged by his election to the Royal Institute of Painters in Watercolour in 1999. He is also a full member of the St Ives Society of Artists. Throughout this period he continually exhibited his work both in the West Country and London.
Throughout his career he has developed a well crafted, poetic and often allegorical style which places him at the centre of the British Neo–romantic movement. He portrays landscapes as abstracts with a narrative through the medium of vibrant colours. Working with equal dexterity across the mediums of pastel, oil and watercolour, Richard Slater creates complex images of rural scenes, villages, buildings, wildlife and flora
Richard Slater's paintings are in the permanent art collection of the Royal Albert Memorial Museum in Exeter. Furthermore, his work is in the art collection of the BBC. In summary his paintings represent the art of a master of his craft. They are both an enduring joy and an investment for the future.
We have over 100 of Richard Slater's remarkable works and are his main gallery. Make an appointment with our expert, Cheri and view his sketchbooks and early wood engravings and lithographs.