Kevin Wright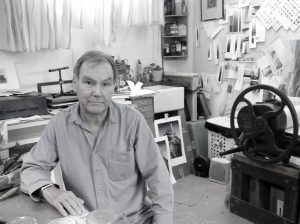 Kevin Wright's copper plate prints reflect his love of  both the countryside and coast of the West Country. Traditional Romanticism and the natural world guide his work.
His prints have been exhibited widely, including the Royal Academy Summer Exhibition, the Mall Galleries London, the Royal West of England Academy and galleries in Italy and Germany as well as many other galleries in the UK.  He is a South West Academician, an Associate of the Society of Graphic Fine Artists and a member of the Devon Guild of Craftsmen (MAKE SouthWest).  His printmaking studio is by the River Dart.  
Kevin Wright creates his fine art etchings using traditional methods. He works his imagery into copper plates by biting them with solutions of acid.  He then inks and prints the copper plates onto heavyweight cotton paper on his etching press, creating limited editions of each image. 
He was born in Devon and attended art colleges in Newton Abbot, Newport and London.  He completed a Masters degree at Goldsmiths College and a Masters degree in the History of Art at Birkbeck College, University of London. After studying printmaking at Goldsmiths College, copper plate etching became his medium of choice. 
Showing all 17 results