Jennie Hale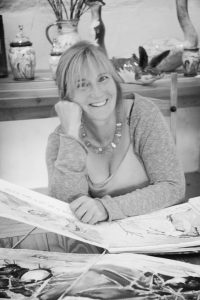 Jennie spent the first twelve years of her life in Scotland. She lived by the sea surrounded by hills. Her father used to take her fishing, sometimes on the rivers for trout or salmon, sometimes to sea for mackerel. Chance encounters with some wild creature were always a possibility. There would be Eider and Scoter, Gannet and Cormorant around their boat; deer in the woods and Wildcat in the glens. She avidly collected bugs and filled endless tanks with rock-pool creatures, jam-jars were filled with frogspawn.
Young Jenny and her dog wandered and had adventures. She took to the hills, always trying to go further. When they left Scotland and finally settled in Devon it was with this companion that she explored her new home.
Each day Jenny goes out early to explore the countryside which informs her work. She draws or just watches the goings on in the forest. Making notes and drawings direct from nature are the staring point for her pottery and it is through her ceramics that she shares the moments that delight her.
During the seasons, she watches nature arrive and survive. Jenny says that, 'It's that incredible spirit of survival that has always inspired my work and fuelled my sense of adventure.'
You cannot add "Snow Bunting" to the basket because the product is out of stock.
Showing all 9 results