SUNDAY 19TH NOVEMBER
Snuggle up for winter with your very own hand- made scarf that you made!
Nuno Felt-making Scarf workshop
with
Hilary Charlton-Woodgate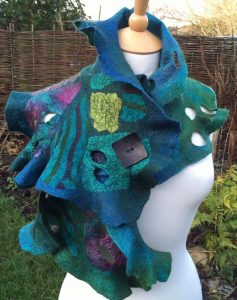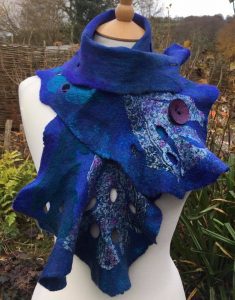 Make your own scarf, in your favourite colours  and stay warm in style this winter!
Hilary Charlton-Woodgate will lead you through all the stages of this wonderful workshop.
Choose your colours, design, learn how to nuno felt and meet others and have lots of fun!
Cost: £70
Date: Sunday 19th November
Times: 10am-4pm
Limited spaces remaining.
Book now by calling us on 01822 258529 or e-mail us on:
info@wildwoodartsdartmoor.co.uk
https://www.wildwoodartsdartmoor.co.uk/contact/
SATURDAY 9TH DECEMBER
Wildwood Arts and Glory of Glass present…
Christmas Glass Fusion
Workshop
with
Wendy Bradbury
Join us to create your very own fabulous glass wall hanging for Christmas!
This workshop is tailored for complete beginners and those with some experience. Participants will be making a wall hanging for Christmas.  There will be lots of help at hand and you will be surprised at what you are able to achieve.
Wendy will take you through the thoroughly enjoyable process of creating your very own piece of Christmas glass art from start to finish. Even absolute beginners will have beautiful pieces that they have designed and crafted themselves. Your glass will be kiln fired and posted to you within 21 days. Classes are limited to 5, meaning that you get one-to -one support in a small class setting.
Date: Saturday 9th December 2017
Cost: £75.00
Time: 10am-4pm
Location:
Wildwood Arts,
Chapel Lane,
Horrabridge.
Yelverton.
PL20 7SP
For more info or to book call us on 01822 258529
e-mail us:
info@wildwoodartsdartmoor.co.uk
https://www.wildwoodartsdartmoor.co.uk/contact/
"A wonderfully relaxing day in beautiful surroundings – excellent guidance and tuition. Wendy made a gentle and creative space where we could design and make in a supportive and helpful environment" – Louise A.
"Really great, fun, informative day!" – Laura D.
https://www.facebook.com/events/291971221207417/
SUNDAY 10TH DECEMBER
FELT ART BOOK COVERS
with Hilary Charlton-Woodgate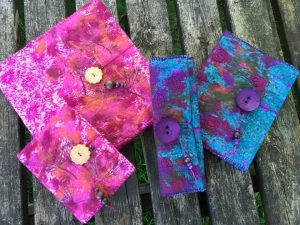 A great christmas gift for yourself or someone you love! Make your own reusable art book cover in felt. You choose your colour and design and Hilary will show you how to make these fabulous covers. A great fun day being creative!
Date: 10th December.
Cost:£70
Times: 10-4pm
all materials provided.
To book call us on 01822 258529 or email us:
info@wildwoodartsdartmoor.co.uk
 https://www.wildwoodartsdartmoor.co.uk/contact/