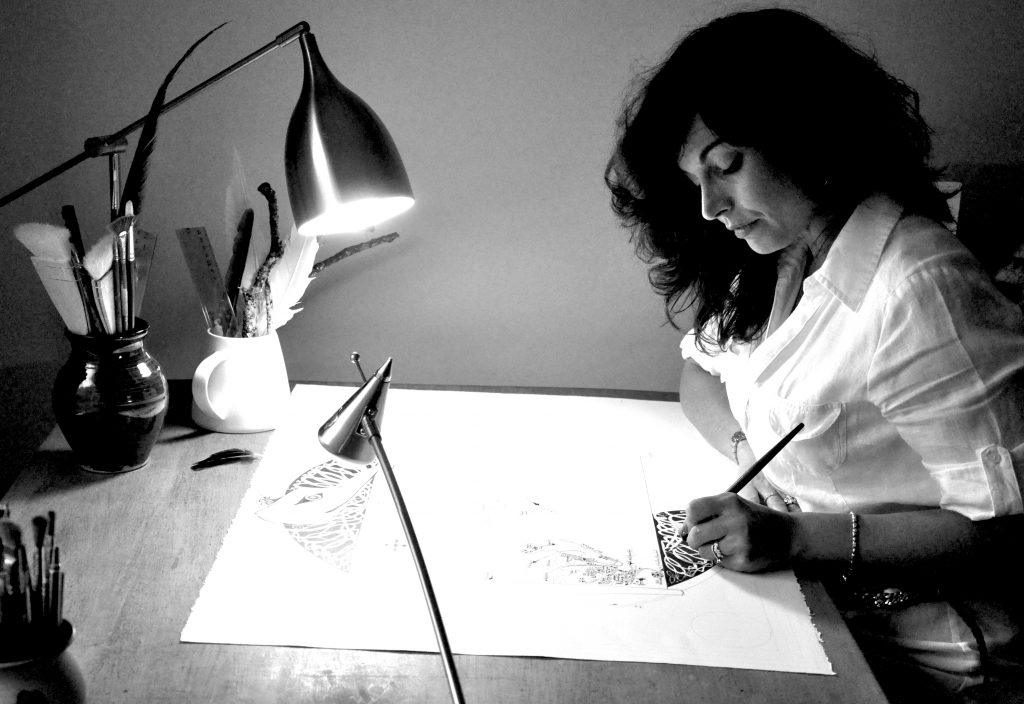 Cheri is a professional and an experienced, qualified teacher and trainer of all ages. She has a PGCE (postgraduate certificate of education) and MA (Master of Arts). She taught English, Literature and media in secondary schools for ten years, was an examiner for KS3 SATS, a marker for the 11 plus English, worked as a trainer for AQA examination board and worked as an education consultant for the local authority for several years: supporting English departments and whole school literacy before training as an OFSTED inspector before moving on to lecturing at Plymouth university and then to private tuition in art and English. she has been a professional artist and private tutor since 2010.
Whether you are a complete beginner or a competent artist, young or elderly, Cheri offers small, friendly, informal and fun workshops, classes and courses, meeting the needs of all in a range of mediums covering a variety of subjects. Her specialist areas are English(KS3/4), creative writing, drawing from the imagination, pen and ink, drawing, watercolour and gouache. She also offers individual tuition in art or English (including GSCE).
"I love meeting people from all walks of life and all different ages and that is one of the many great things about art: it has no boundaries and brings people together. I have taught children from six years old to retired eighty year olds.  Seeing them grow in confidence, not only in their artwork, but in themselves, watching them experiment, have fun, share, and take risks in their art and develop as artists makes teaching worthwhile and rewarding. Creativity makes us curious, gives us problems to solve and new techniques to learn.
Most of us live busy, stressful and challenging lives where we are trying to juggle a million and one different things at the same time. Being creative can take us out of ourselves and offers a calm almost meditative practice where we can be lost in time and place. I think being creative helps us stay mentally healthy. Eighty percent of art is looking: how often do we say that, 'we should stop and smell the roses?'  well, creating art makes us do just that!"
Children's Classes
When I'm teaching KS3 and 4 students, I teach to the level of the individual and move them on at their own pace. Often, certain skills have been neglected due to time constraints of the curriculum or often the student hasn't grasped them the first time around and simply needs them re-explained. I demonstrate  the skills  required in both art and English  and then ask the student to then reproduce.  We all learn  much better through seeing, listening and doing rather than just being told. My classes are not an extension of the school day. I want them to be relaxed and fun whilst also well-paced and informative. Learning happens much more quickly when we are enjoying it.
"Well, what can I say about this lovely lady, I was put in touch with her at the beginning of the year as my daughter was failing her GCSE Art…. She was able with only three months available to her to turn this round…taking time to explain the coursework requirements as well help with techniques that my daughter needed to learn… My daughter passed her GCSE art and secured a place in Plymouth College of Art …the things that were learnt by my daughter has not only helped her with her GCSE but is now being transferred to her work at art college where she secured a distinction for her first piece. I would recommend anybody to go to her classes absolutely fantastic, her expertise, patience and knowledge is second to none and she enabled my daughter to chase her dreams…Thank you Cheri" – Cheryl Collick
I enjoy Cheri's lessons and have fun. I've learnt about drawing from life and observation skills and shading and used pastels. I recommend her classes to others because I like it and you learn a lot and it's fun. She is funny, helpful, slightly mad but professional. The class is friendly and relaxed. It's different to being at school because you're not being judged. You get on with your art work and can spend time on it rather than being rushed and made to do it by the end of the lesson. – Bea aged 12
 The classes are really good. You learn a lot, like how to use different materials Cheri let's us choose our subjects. She helps me make my art better. I've become more confident in my artwork. She's an artist herself and understands. She gets points across easily and shows you how to do something. She explains things well. There's music playing while we work and it's relaxed. We have fun whilst we work. Time goes so quickly, but the time of the lesson is just right. You get more of her time than in school because the class size is small.

She's kind and funny. She's interested in what you are doing.

I hope I can keep on coming. I've been coming to lessons for a year now.  – Amelia aged 12
(Amelia won second prize in her age group at Plymouth Contemporary Open at Plymouth university)
I keep hearing good things about you from Amelia and Ella. I know the girls are getting so much from coming to your lessons." Art teacher –  Devonport High School for Girls
Student Work – Children
Student Work – Adults