We have lots of great exhibitions  over the next few months- here's a sneaky peak of just a few…
9th-17th February 'Capturing Dartmoor Photography Exhibition .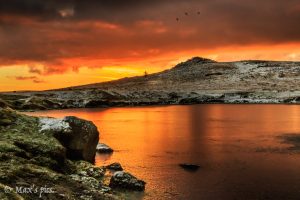 A celebration of Dartmoor throughout the seasons!
A wonderful array of stunning photography from black and white to colour, prints to canvas, large to small.. a wonderful journey over Dartmoor from the warmth of the gallery.
Private view: 9th Feb 6-8pm all welcome! Come have a glass of wine and meet the photographers!
February 20th- March 13th: 'An Artistic Journey' Richard Slater (Royal institute of Watercolourists) . Solo Exhibition. Private view: Saturday 24th February 6-8pm.
Wildwood Arts are very privileged to be holding an exhibition of this fantastic local artist, who throughout his career has developed a well crafted, poetic and often allegorical style which places him at the centre of the British Neo–romantic movement. He portrays local landscapes as abstracts with a narrative through the medium of vibrant colours. Working with equal dexterity across the mediums of pastel, oil and watercolour, Richard Slater creates complex images of local rural scenes, villages, buildings, wildlife and flora.
Richard Slater's paintings are in the permanent art collection of the Roya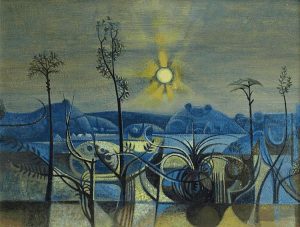 l Albert Memorial Museum in Exeter.
Recognition of his prodigious talent was acknowledged by his election to the Royal Institute of Painters in Watercolour in 1999 and of which he remains a member to this day with his work being exhibited yearly at the Mall galleries in London. He is also a full member of the St Ives Society of Artists as well as being listed in 'Who's Who in Art and the 'Dictionary of British Art since 1945'
His work is also in the art collection of the BBC. His paintings represent the art of a master of his craft. They are both an enduring joy and an investment for the future.
This exhibition will endeavour to show, through the paintings, the artistic journey he has made over his many years as an artist.
Richard Slater will be in attendance to meet visitors at the Opening Evening event on Saturday 24th February at 6pm -8.30pm for an invitation to the evening please tel: 01822 258529 or e-mail: info@wildwoodartsdartmoor.co.uk
Opening times Tues-Saturday 10am-4pm. Please contact us for further information.
MARCH
'Homespun from Devon' Sue Lewis. Solo Exhibition.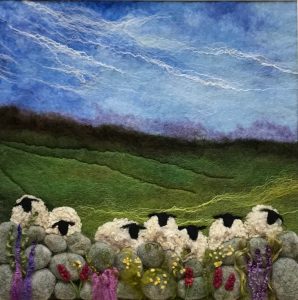 This exhibition celebrates a method of 'painting with wool' used by local artist Sue Lewis who lives and works on Dartmoor. Using locally sourced and rare breed fleece, Sue collects the fleece straight from the sheep, washing it, hand-dying it and transforming it into beautiful artwork depicting Dartmoor scenes.
She uses an array of locally sourced wools such as: Blue-Faced Leicester, Perendale, North Ronaldsay, Shetland, Alpaca, Teeswater, Romney, Mulberry silk and Merino. She then freestyle machine stitches, hand-embellishes and needle felts to create stunning art. Recently, she acquired her own first sheep from a local farmer and is now building up her own flock to source their wool!
She takes inspiration from nature and the beautiful scenery of rural Devon, especially the rugged landscapes of the Dartmoor National Park.
March 16th- April 7th private view: Fri March 16th 6-8pm
APRIL / MAY
WILDWOOD SPRING EXHIBITION.
10th April – 24th April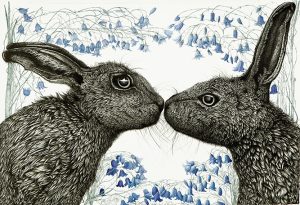 The Spring exhibition will be a glorious showcase of all the 40 plus artists that Wildwood represents, under the theme of 'British Spring'. From textile art, ceramics, watercolours, felt, glass, oils, watercolours, acrylics, linocuts, mono-printing, dry-point, drawing and inks there will be a glorious colourful feast for the eyes!
Tuesday-Saturdays 10am-4pm Tel: 01822 258529 or e-mail: info@wildwoodartsdartmoor.co.uk for more information
THE DARTMOOR COLOURISTS
26th April-12th May  Private view: Thursday April 26th 5.30-8pm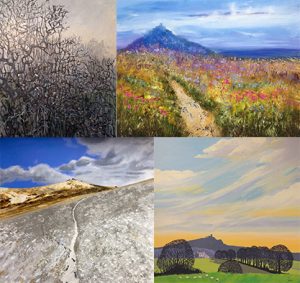 A group of women artists from Dartmoor- focusing on landscape and the colours of Dartmoor.
Laure Bury, Sally O'Neill, Angela Smith and Katy Stoneman came together with the idea of forming a supportive and active band of artists to go out and paint in the wild.
They realised they all felt the emotional power of the moor and all responded in their own way to its landscapes, colours, shapes, and textures. Working together and sharing these passions creates an exciting dynamic in their work.
Private view Thurs 26th 5.30-8pm.