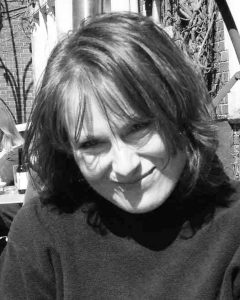 Ever since Sue was old enough to remember she always had pens, pencils and a pad of paper in her hand. Unable to find any local classes on wet-felting, she taught herself. Immediately she was hooked with this method of painting with wool. 
Since then she has introduced freestyle stitching to her pieces and started to hand-dye fleece to add texture. She says that there's a certain satisfaction to collecting fleece straight from the sheep, washing it, hand dying it and transforming it into beautiful artwork. Using locally sourced, rare breed fleece is a priority for Sue.
My artwork is an extension of my love for the countryside and natural history coupled with a love of working with natural materials.
I describe my work as 'painting with wool.' The array of wools I use are my 'palette' and I use many of the principles of painting when creating
my textile pieces. My work is constantly evolving as I find new materials to experiment with.
I especially love the Dartmoor landscape and this is reflected in my work.The stunning skies and the changing light of Dartmoor are an endless
source of inspiration to me.'