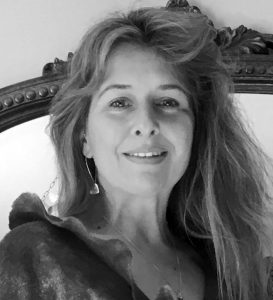 Hilary was born in Birmingham, England, and raised from a young age in the county of Devon. She now lives with her family on the southern edges of Dartmoor where she revels in the beauty of the moor and the sea – come drizzling rain or sunshine.
Hilary has worked in a variety of crafts during her artistic career, finally settling upon felt-making some 12 years ago. She has honed her skills through studying intensively and attending courses and master classes both near and far, led by world class tutors through the International Felt Association of which she is an active member.
Having successfully exhibited all manner of felt items from felt pictures to three-dimensional objects like hats, bags and vases, Hilary has lately concentrated on learning how to incorporate fine silk fabrics with Merino wool and silk fibres to make Nuno-Felt. Delighting in making more abstract pictures, bespoke textured garments and bags, and in the seemingly endless potential for manipulating both colour and texture to form new shapes and patterns, Hilary is always looking to push the boundaries of felt further.