When:
2019-04-25T00:00:00+01:00
2019-04-26T00:00:00+01:00
Where:
Wildwood arts, Dartmoor.
Chapel Lane
Horrabridge
PL20 7SP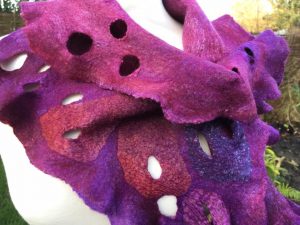 Nuno Felt Scarf Workshop with Hilary Woodgate.
Making something useful out of very little and using very little is obviously very attractive, unique and personal. It's beauty is in combining the colours and textures that different fibres and fabrics can create……And what's more everyone can do it!
Our workshops are aimed at complete beginners, to light the flame of wanting to know more!
In all of the workshops I will talk about what felt is, the various ways it can be made and of course, what it can be used for.
The scarf-making workshop focuses on the learner making something unique that they would be proud to wear….something attractive and functional! Knowing a colour preference beforehand will enable me to gather suitable fabrics and fibres since the scarf will be made using a technique called Nuno felt-making where the fibres of the wool are passed through the weave of the fabrics used to create a lovely textures. The scarf will have a gently wavy edge and purposeful holes, these will allow the wearer to attach the scarf's ends using a button (that can be bought later)
About Hilary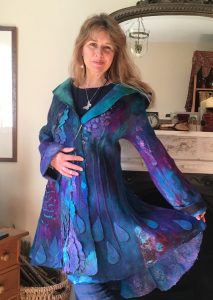 Hilary is an internationally recognised felt artist and has featured in 'Felt Matters,' International felting magazine and is a guest tutor at their AGM. She creates beautiful clothes, bags and scarves from felt and her colour mixing is exquisite and much admired by other felters.
want to read more about Hilary? Click here:
Students working