When:
12th July 2019 @ 10:00 am – 4:00 pm
2019-07-12T10:00:00+01:00
2019-07-12T16:00:00+01:00
Where:
Wildwood Arts
Chapel Lane
horrabridge, Yelverton
Devon. Pl20 7SP

This is a workshop aimed as an introduction to the basics of felt making, the aim being to inspire the student to want to learn more and to explore the potential of felt in all it's forms. The choice could be to make a 2D table-runner or to use a 'resist' to make a 3D project such as a bag, a vase, a cover for a computer tablet or book, a cowl, fingerless gloves or a bowl or even a felt picture perhaps? In fact the list is endless, and of course more than one project can be undertaken providing time permits. Within a small group, each student also has the benefit of overseeing and being inspired by each other's work and so is able to learn about several techniques at the same time.
Hilary is extremely enthusiastic about transforming the Merino Wool Fibres that she uses to create her felt-work mixing them with other fibres and fabrics to create colourful textured pieces and delighting in passing on her broad knowledge to others.
All materials will be supplied as are refreshments such as tea, coffee, cold drinks and biscuits. A packed lunch will be needed for a lunch time
'Thank you so much for the amazing workshop, Hilary. Really enjoyed it and am now looking forward to adding some finishing touches. Can I come again please??' K. Rogers
Thank you so much for the workshop yesterday. I thoroughly enjoyed it and I'm amazed at what I managed to create as a complete novice with Hilary's guidance.
C. Taynton
About Hilary Woodgate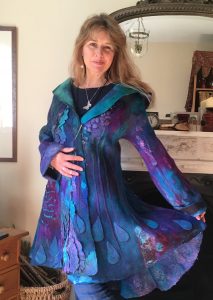 Felt-making has become addictive to me; I discovered it quite a few years ago having worked in a variety of other mediums until I realised that nothing fired my imagination and sense of creativity in quite the same way. The possibilities for today's felt artists seem endless and the potential to explore and create in new ways are, for me, perhaps the most exciting aspects of the art. I have learned about the many techniques that are involved in creating shape and texture, and I stretch my boundaries further by taking tuition from some of the World's leading felt-makers; this high level exposure feeds directly into my own teaching when I can let my rich knowledge and natural enthusiasm shine through.
I take enormous delight in sharing my knowledge and skills with new learners and revel in their achievements as they discover the potential of felt in all its forms. Through my experience, I have developed a preference for smaller groups, as this allows for better focus on the individual. 
In my workshops, I will be imparting the basics of felt projects like 3D vessels, picture-making, scarves and accessories, Nuno-felt, and surface textures.
As an active member of The International Felt-makers Association, my own particular area of interest is in the creation of felt paintings and also the making of bespoke clothing and accessories.