Tessa Jane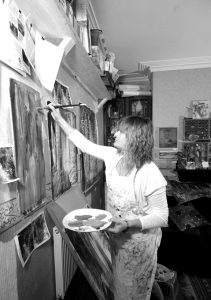 Colour, pattern, texture, line and tone are the key elements for Tessa Jane. She is inspired by poetry and her art titles are usually lines from poetry. Tessa Jane is a textile- trained artist and designer and her work has been described as "fresh and semi-abstract". Tessa Jane loves creating the threads, dyeing them, and setting up the loom-and experiments with materials, both found and sourced.
She likes to play with colour combinations and patterns and takes delight in recording what she sees in unusual ways. Patterns for interior decoration require the designs to be seen from all angles and this is often the case with her work, which can sometimes be hung in any orientation and still please the eye.
Since 2006 Tessa has been an active member of Drawn To the Valley, the cooperative of artists and designers living and working in the Tamar Valley, spanning Cornwall and Devon. She has exhibited in London and at the Florence Biennale and with the Royal West Academy.
Showing all 8 results