Natalie Toms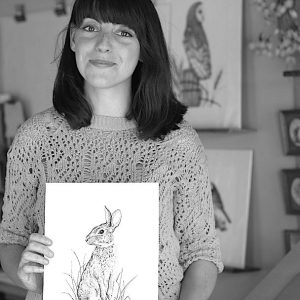 Natalie is a Cornish wildlife artist living and working in the village of Lanlivery in rural Cornwall. Inspired by the woods, fields, hedgerows and rivers, She has been strongly influenced by the natural world for as long as she can remember.
Natalie studied Fine Art and Graphics: Illustration at Truro College and St Austell College.
Thickets Studio She is often found drawing in her studio, nestled at the bottom of her garden which looks out onto the meadow providing a diverse habitat for much of the wildlife that inspires her work.
She sketches a detailed composition in pencil on cold-press watercolour paper before gradually adding layers of detail and colour using fine-liner pens and watercolour. Much of of her previous works were made using a stippling technique, the resulting effect is not unlike Pointllism in appearance. Both techniques are delicate and meticulous processes which take many hours to complete.
Showing all 4 results