Lynn Bailey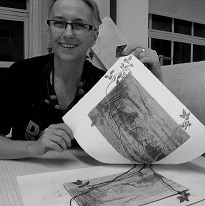 Lynn's original training in the 1980s was in conservation of prints and drawings and gave a solid foundation in the traditional techniques of the 'old masters' and an appreciation of quality materials.
After a while working in animation and a trip around Africa, she went back to college to study Fine Art and found herself  gravitating towards printmaking.  Through her artwork she looks to say something about the environment –  how we interact, use, abuse and collaborate with the natural world around us. This has taken her to interact with specific sites such as a regenerated landfill site and increasingly to focus on the small ubiquitous and often reviled weeds and bugs that form the foundation and engine-room of ecosystems.
Much of her current practice involves ongoing studies of Devon Hedgerows. (Devon has more hedgerows than any other county in the UK, supporting over 600 plant species, 1,500 insects, 65 birds and 20 mammals).She has also been studying the rooftop bees in Princesshay, Exeter. Urban bees have a vital role to play in local pollination.
She uses a wide range of printmaking techniques – both traditional and innovative, often creating complex one off prints using collagraph, drypoint and mono print techniques, using plants either foraged from hedgerows or which she cultivates for the purpose. She makes a point of using high quality, archival materials in my all artwork.
2007 to present – Member of the Devon Guild of Craftsmen.
1997 to present – Co-founder Double Elephant Print Workshop & workshop manager.
1993 -1996 – Fine art BA University of Plymouth.
1980 -1982 – trained in Conservation of Prints and Drawings.
Curriculum Vitae
Showing all 3 results