Jo Lilley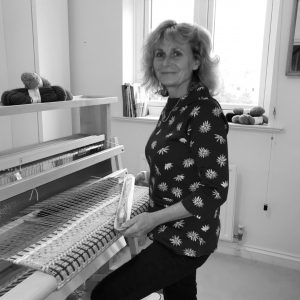 Jo originally trained as a Fine Cabinet Maker before raising her family and career as a Craft, Design and Technology Teacher. Jo founded her Mice and Mole business in 2016, to share her passion for making fine craft through workshops and presentations.
Originally focused on fibre sculpture, it enabled Jo to develop her knowledge and understanding of textiles. This provided the perfect springboard to master weaving. Jo crafts her hand-woven textiles and rugs on a floor loom, called Jessica, at her home in Dorset. Using pure linens, wools, cottons and silks, Jo combines her innate creativity and flair for playing with colour, breaking convention, and designing intricate patterns often inspired by the clean lines of Scandinavia.
Equally Jo's love of nature, the local countryside and coastline inspire her intricate needle felted sculptures, each one detailed with different wools bring to life unique, playful characters – a total labour of love!
Both her artforms, enhance the tactile and visual enjoyment of natural fibres and promotes the value of its durability, luxurious quality and eco-sustainability.
Jo has been awarded trophies and recognition by several Associations including the Dorset Guild of Weavers, Spinners and Dyers, Dorset Arts and Crafts Association and the Dorset County Show. She is a full member of the Devon Guild of Craftsmen.
Showing all 12 results