Jen Ricketts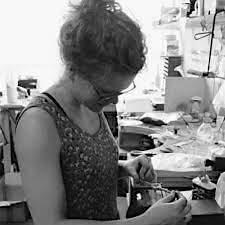 Award winning silversmith Jen Ricketts gained a First Class Honours Degree from De Montfort University and went on to complete a year long silversmithing residency at Bishopsland. Jen has received awards from The Goldsmiths' Craft and Design Council London and from the Craft&Design Magazine. In 2015, she completed a prestigious commission for the Lord Mayor of Sheffield which was subsequently presented to the Queen on for her visit to Sheffield on Maundy Thursday. The piece was then on exhibition in Buckingham Palace in Summer 2017.
Jen has perfected the silversmithing technique of hand saw piercing. She uses the finest of saw blades to hand cut her designs. Her current work concentrates on making bespoke functional silverware of intricate city skylines and intriguing silhouettes of countryside scenes. She also makes exquisite jewellery of the countryside, animals, people and country pursuits.
Each piece is exquisitely detailed. Jen always begins with a drawing of the design. These drawings then form the template with which Jen hand cuts the design from silver, creating a unique piece of contemporary jewellery.
Showing all 22 results