Emma Mogridge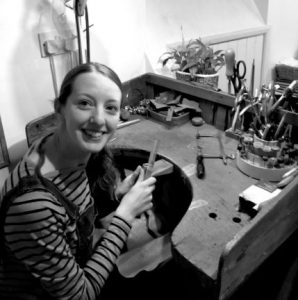 Emma is a jewellery designer-maker based in her beautiful home county of Devon. She graduated from Birmingham's School of Jewellery in 2009 with a first class BA (Hons) in Jewellery and Silversmithing. It was during this time that she discovered her craft and became a qualified gemmologist and diamond grader.
After graduation Emma worked in the jewellery trade in Birmingham's historic Jewellery Quarter for six years. She worked as a jewellery cataloguer for Fellows Auctioneers and tutored a Gemmology evening class at the School of Jewellery.
With more than a decade of experience in the jewellery trade, Emma is a member of the Devon Guild of Craftsmen and a fellow of the Gemmological Association of Great Britain.
Emma's unique jewellery collections are inspired by the shimmering of light over water. Each hand-made piece captures the perpetual motion of ocean waves. Her eye-catching surfaces are hand-crafted in precious metals using specialist techniques and hand-made tools at her Devon workshop. Luxurious 24ct gold plated surfaces and her award winning 'Liquid Sun' brooch are inspired by dramatic sunsets at sea.
Emma's jewellery has a definitive nautical feel, with echoes of ships and portholes, rolling waves and glistening pebbles. Each piece is designed to capture the spirit of the ocean.
Showing all 16 results