Elaine Ford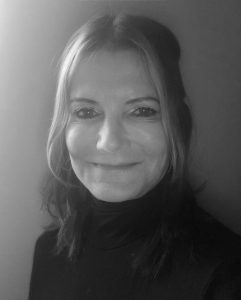 Elaine studied Fine Art at Winchester School of Art (University of Southampton), graduating with a B.A. Honours Degree and a Nancy Balfour Award. She was awarded a Scholarship to continue her studies and went on to complete a Masters Degree in Fine Art.
Elaine has also worked as an Equity Registered Stunt Co-ordinator and Performer in The Film and Television Industry for over 25 years, working on major films such as  007 Skyfall and the Harry Potter series (www.stuntproducer.com).  The adrenalin rush, movement, energy and drama is ever-present and feeds into her evocative and dynamic paintings. Influenced by JMW Turner, her work is driven by the desire to capture the sense of place and emotional responses that the sea and landscape can evoke, whilst leading the viewer on a visual journey.
Working as both a Professional Artist and a Stunt Co-ordinator, entails a constant switch between fantasy and reality. This is reflected in Elaine's art works which are impressionistic in feel, but often with hints of contemporary romanticism and the sublime.
"My work is an amalgamation of drama, imagination and memory, with a strong emphasis on colour. The physical act of pouring and pushing paint around is an intrinsic part of my practice, whereby I lose myself in the materiality of the painting process. I work mostly with acrylic and oils, although frequently add to the mix a variety of other mediums, glazes and inks to keep the palette fresh and continue pushing the boundaries with new methods and ideas.
I enjoy the process of building up layers and then stripping back and scratching into the surface to reveal hidden places and allowing the painting to develop its own narrative through unexpected results. Working with palette knives and my hands, as well as applying bold brush strokes enables me to achieve rich textured paintings, creating maximum energy, emotion and diversity in my mark making."
Showing all 12 results