Bleau Shannay Hudson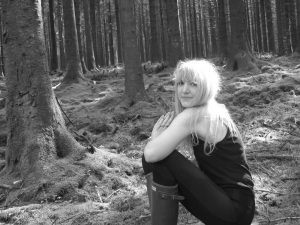 Bleau Shanay Hudson is a woodland and tree artist, poet, blogger, and photographer.
Surrounded by woodlands and trees since childhood, Bleau has a deep love for nature and affinity with trees. Time spent outdoors from an early age allowed her imagination to thrive and created a world in which to escape, believe in and explore. This is very much a part of her today. Her mother's creativity influenced Bleau's interest in art and this continued to develop throughout her education.
After studying art and photography at college and following a big push from her father, for the last 12 years Bleau has exhibited in prestigious establishments including BAFTA in London.
Bleau's work has been featured in magazines including Sussex Living, other publications and films including Woodland Awakening for the Woodland Trust.
Bleau makes regular trips to see family on Dartmoor and spends much time on the moors, by the rivers and in forests where she finds her inspiration.
Bleau works with a variety of media such as acrylics, inks, pastels, textured papers and organic materials gathered from tree bark, leaf litter and mother earth. Through her work, Bleau wishes to inspire people to connect with nature.
Showing all 6 results