Ann Bruford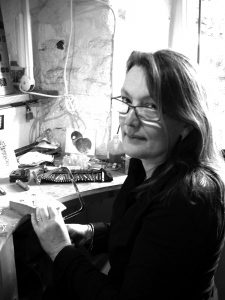 'My aim is to create jewellery that becomes part of the owner's own portable art collection and an essential component in their everyday rituals. Just as Nature is never static, much of my work alters and moves as you wear it – pearls tremble on pendants, metal components slip and slide over each other, necklaces lengthen or shorten, textures become clearer as surface patinas mellow and gold accents sing out. The making process continues the development of an idea with designs evolving in ways not always anticipated and often fuelled by the acquisition of new experiences, skills or materials.
The acorn cups and twigs are life castings from the tree outside Ann's workshop.
NB: Pearls do not like chemicals , including silver dip. Dark patination is a surface finish that will wear with time. Raised points may rub bright with time but recessed areas will remain dark. This feature enhances the textures created and is unique to each wearer.  Do not place such patinated items in silver dip or use abrasive cleaning cloths. always apply perfume before applying your jewellery.
Showing all 19 results