Amy Chudley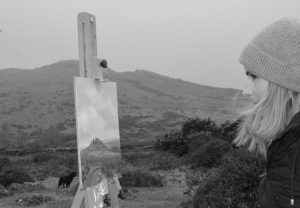 Amy is a Devon based painter. She has been painting full time since 2007. She has been a student of Louise Courtnell since 2015. Louise trained under her mentor Robert Lenkiewicz. Robert's teaching concentrated on the understanding of tone which Louise has passed on through her own teaching.
Amy loves to work from life as much as possible. Landscape is about the experience of trying to put down on canvas, as much as she can see of what is in front of her, with changing light, weather and clouds, She hopes to get an impression of a passage of time rather than a snapshot.
During lockdown, Amy discovered a passion for still life.
'I very much enjoy the feeling of calm and peace whilst I am painting them, I hope this comes across to the viewer.
With the year of Lockdowns we've had I've tried to look for beauty in the ordinary. Still life for me is about gratefulness and an appreciation of the small things.'
Showing all 3 results