Alison Freshney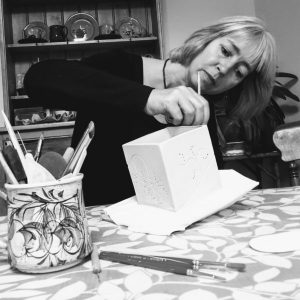 Alison's work draws inspiration from the natural world. Particularly, the forms, textures, patterns and colours of the plants all around her in the Tamar Valley. The results are seen in sculptures and porcelain tiles. Observation and photography of the plants in their natural environment is key to the development of her pieces. Each piece is created using hand building techniques. Influences include both the Arts and Crafts and Art Nouveau movements (the links are to wikipedia references).
Her body of work includes leaf sculptures in a variety of sizes, made with a range of different clays, often incorporating motifs such as water drops.
Amongst her other work Alison creates Foliage. These can be as porcelain tiles which have hand-sculpted relief work. This can on occasions be enhanced with added detail from pressing plants on the surface.
Unglazed, apart from a minimal use of gold lustre to enhance the clay, the porcelain tiles, amongst others are then mounted onto hand-cut slate. Other more functional, but decorative pieces include vases and bowls.
Showing all 3 results