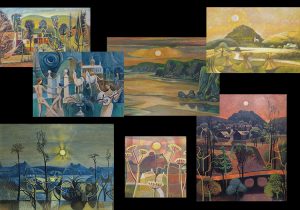 'An Artistic Journey' Richard Slater RI
24th February -13th March
Preview evening 24th February 6pm-8.30pm
Wildwood Arts are very privileged to be holding an exhibition of this fantastic local artist, who throughout his career has developed a well crafted, poetic and often allegorical style which places him at the centre of the British Neo–romantic movement. He portrays local landscapes as abstracts with a narrative through the medium of vibrant colours. Working with equal dexterity across the mediums of pastel, oil and watercolour, Richard Slater creates complex images of local rural scenes, villages, buildings, wildlife and flora.
Richard Slater's paintings are in the permanent art collection of the Royal Albert Memorial Museum in Exeter.
Recognition of his prodigious talent was acknowledged by his election to the Royal Institute of Painters in Watercolour in 1999 and of which he remains a member to this day with his work being exhibited yearly at the Mall galleries in London. He is also a full member of the St Ives Society of Artists as well as being listed in 'Who's Who in Art and the 'Dictionary of British Art since 1945'
His work is also in the art collection of the BBC. His paintings represent the art of a master of his craft. They are both an enduring joy and an investment for the future.
This exhibition will endeavour to show, through the paintings, the artistic journey he has made over his many years as an artist.
Richard Slater will be in attendance to meet visitors at the Opening Evening event on Saturday 24th February at 6pm -8.30pm for an invitation to the evening please tel: 01822 258529 or e-mail: info@wildwoodartsdartmoor.co.uk
Opening times Tues-Saturday 10am-4pm. Please contact us for further information.