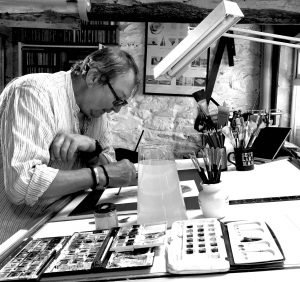 Robin is widely regarded as one of the UK's most respected and established wildlife artists. His vast experience and versatility makes his work fresh, innovative and contemporary. He specialises in mixing fluid abstract backgrounds with detailed, precise, studies in watercolour and acrylic paintings. 

His professional life as an artist began when he joined a commercial London art studio as a trainee illustrator and quickly rose to being a studio manager. Wildlife art became his passion and he spent many hours in the dusty vaults of the Natural History Museum in South Kensington painting and drawing skins and skeletons. 
His love for the environment and nature, and his determination to escape city life and pollution, led him to the West-country where he threw himself into making a living as a full-time artist. TV and radio programmes were made about him and he had high-quality art books published.  
He became a river warden on the River Tavy near Tavistock This proved to be the perfect fusion of occupation and passion. Robin boldly changed his approach to his canvasses and with maturity Robin's painting has evolved into more stylised and contemporary forms, although it was still his years as a river warden, and making close observation of the water surface and surroundings, that gave him a unique insight into his subject matter and became a recurring theme. Five books came out of these years of study, including the best-selling 'Painted Stream'. 
Travels to the Arctic, Australia, Namibia, Egypt and  Canada – as well as the island fringes of Scotland and Ireland – provided him with never ending inspiration and further enhanced his repertoire and honed his style. Robin settled on his beloved Dartmoor where he now lives and works from his hilltop cottage .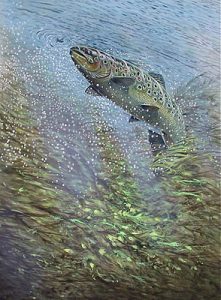 'I am on a constant quest to understand and capture the changing natural world around me.'