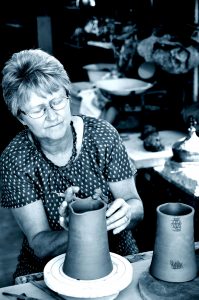 Philippa lives and works in the beautiful and ancient Stannary town of Ashburton, on the southern edge of Dartmoor. Her ceramics are thrown stoneware and nearly always have a sculptural element to them, whether it's a hare, a ram or a stag. Some of her pieces feature the
three hares symbol known locally as the Tinners hares. The flora, fauna, history and landscape of Dartmoor inspire her pottery and the moors colours are reflected in the glazes she uses.
'Tales of hares and wassailing: a celebration held in orchards to ward off evil spirits allowing an abundant apple harvest intrigued me .They would have a three or more handled mug or cup so that the cider could easily be passed from one person to another at the celebration.
I also became increasingly fascinated by the clever 'Tinners Hares' design,(three hares running in a circle with only three ears between them but a closer look reveals each hare has two) there are seventeen churches in Devon which have a boss bearing the 'Tinners Hares. I fused the two areas of interest together to create a 'Wassailing cup with hare handles'.
Regular drives across the moor from my home in Ashburton inspired my next subject, the ram's head with its variety of curling horns. The breathtaking beauty of the everchanging colours, light and shapes continue to excite and inspire my pottery.'