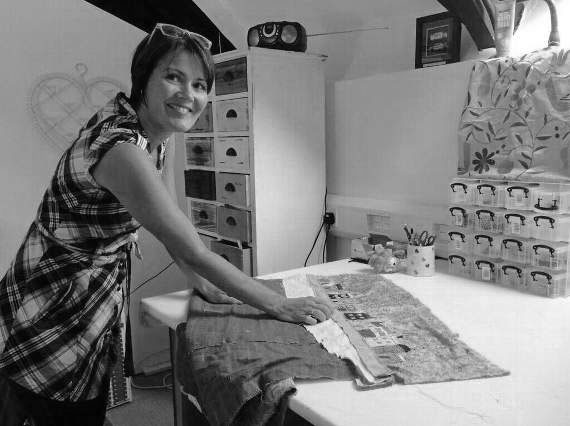 Jackie Gale's colourful and vibrant work reflects the energy and creativity of her character. She learnt to be a resourceful artist from an early age, creating collages using scraps of fabric supplied by her dressmaker grandmother or more industrial treasure from her father's garage. She is convinced her love of recycling vintage fabrics and household item stems from those years. Her resourcefulness can be seen in many of her pieces where everyday items are transformed into vibrant seascapes, wild flowers and even highland cattle.
Influenced by her passion for naive art, Jackie tells the story with texture. Each piece she creates is full of engaging detail boasting a wonderful multi-dimensional quality. Narrative is an essential component of Jackie's work and her ability to capture the essence of a place or theme using layers of fabrics and textiles makes her work truly unique.
Inspiration comes from a number of sources including my travels around the world and love of wild flowers. Living so close to the South Devon coast gives me an endless supply of beautiful harbours, coves and woodlands to explore and draw ideas from. I firmly believe that inspiration is all around us and that every place has a story to tell.