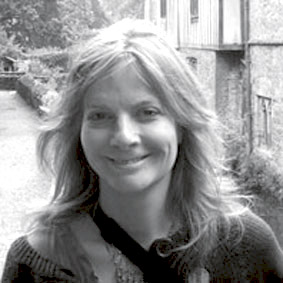 Annabel was surrounded by art from an early age and influenced by her family who were all artists and designers. As a child, her summers were often spent on pastel drawing holidays in Wales.Raised in London, Annabel and her family would explore the National art galleries on Sundays. In her late teens Annabel was torn between studying the environment and pursuing her art. She chose art with her main focus being nature.
She discovered she had a passion for colour and pattern and this led her to study textile design at degree level at East London University. She would focus on drawing plants, then abstracting them  and creating patterns. Since moving to North Devon, she has developed this style and now uses multiple printmaking processes to achieve her artworks
'I see pattern in everything and so often like to take my original paper prints into fabric designs via digital software. The fabric is then made up into lampshades and cushions.
I love to use many different printing techniques; drypoint, mono-print, screen, photo-etching and sometimes I'll cross them over or try them on fabric. My main influence is botanical and sometimes to abstraction. I use my drawings to etch with, cut into lino, and make stencils. Hedgerows are an inspiration and I like to collect plants and press them.'.