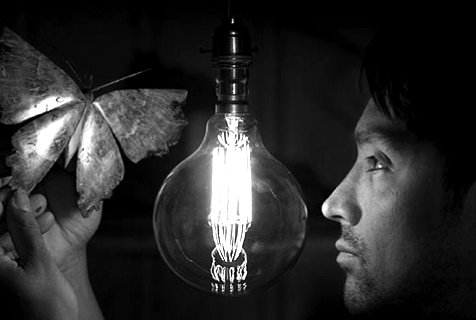 Boat builder-turned artist Andre Daniel uses a variety of British native woods from fallen trees for his work.
Growing up in Hooe, in Plymouth, Andre spent much of his childhood around boats and eventually trained as a wooden boat builder. He then spent almost ten years crewing super yachts to sailing to remote archipelagos. Finally he decided it was time to settle back on dry land and he moved to Scotland where he honed his craftsman's skills in the shadow of the Glasgow Art scene.
Influenced by the wildness of the Highland, he made furniture, sometimes setting fossils and ammonites into the pieces.
After returing to live in Devon, a small patch of woodland became his inspiration as he became fascinated with the variety of moths he would see daily.
He shares a small cottage in Yealmpton with Jasper, the Kelpie and a Harris hawk, Darwin, whose feathers, once moulted, are saved and whittled to create the delicate feathery antennae for the wooden moths.
Andre believes no one is creating anything quite like his 'Devon Moth' anywhere else in the world. "As far as I can see it's unique. In the world of art and craft you have a very slim chance of creating something that no other artists are doing; we are all influenced whether we know it or not, but I real-ly haven't seen anything that comes close."
"I love the whole process of creating each individual moth from sourcing the wood to examining the grain and then designing and carving a unique piece,"
"Every one is original and unique because no two pieces are ever the same. I look at every piece of wood and create something different. I don't fell a tree to make a moth; it's the little obscure pieces that I find that would otherwise not be used for anything else."
Andre's moths have featured on the BBC's 'Escape to the Country'.
His moths are appearing at the Chelsea Flower Show this year .